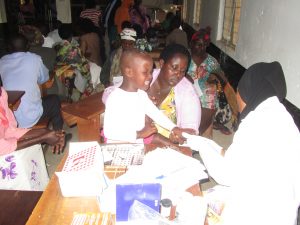 By JJ Beine
Kiruhura : 200 people  in Kiruhura district tested positive of Heptatis B out of 900 that were tested by mbarara  community hospital director Dr. Nathan Karema at kanoni secondary school kazo sub county Kiruhura district.
Dr.  Karema said most Ugandans do not like to go for testing so that they can be able to know their health status early before  they get sick.
While addressing locals at kanoni secondary school, Dr.  Karema asked the community to keep going for medical check ups since Heptatis B in Kiruhura is basically spread because of their ways of living which is immunisable to stop the spread.
Those diagonised with the virus were put on medicine so that they can get hope.
Hepatitis B have different signs in case one has is it, like he/she lose appetite, vomiting most of the time and it spreads through sexual intercourse with someone affected, handshakes among other body to body contacts.
Hepatitis B is a viral infection that attacks the liver and can cause both acute and chronic disease, an estimated statistics from WHO shows that 240 million people are chronically infected with hepatitis B  and More than 686 000 people die every year due to complications of hepatitis B, including cirrhosis and liver cancer.