It's a bright Saturday 17th December mid-morning and Chemangala trading centre is quiet, after a lively friday night. At Jacqueline Alengot's food and drinks joint (a popular hangout place here), it's time to clean up and get ready for the night.
In this vibrant trading centre in Kawowo sub county, Kapchorwa district – Eastern Uganda, this hangout joint is the place to be for dozens who throng the town after a hard day's work in the pozzolana quarries. Pozzolana is a mineral used in the manufacture of cement.
Residents here confirm that most of the people in the quarries are migrant workers, though the able-bodied natives of the district and nearby areas also work for a living from the different mining spots, owned by different cement companies. The labourers stay in highly secured camps, set up by cement companies.
"We are always busy in the evenings. People from everywhere who work in the quarries come here to spend their money. They earn a lot from mining and this activity is having a huge impact on our local economy," Jackson Masaba – the manager of the food and drinks joint told this publication as he supervised the ongoing preparation activities that included restocking drinks and cleaning.
Chemangala quarry which belongs to Tororo Cement is the nearest but other quarries of Simba, Hima, Tororo, and Kampala cement companies are not too far either.
During the day, it is a relatively calm trading centre- just like many others such as Kaboryot, Kawowo, Kapcela all in this mineral-rich sub county. Small and medium shops, mainly selling household and food items are the majority, with not many people. As it is a dry season, the shop owners keep dusting the goods in the shelves, as they wait for the next customer.
When darkness falls, the silent Chemangala town comes to life- as hundreds of workers who are always busy during the day, especially in the quarries come to town to have a good time. Back at Jacqueline Alengot's food and drinks joint, manager Masaba and the team are too busy serving customers. "The mining sector has brought an economic boom to this area. As the business community, we are benefiting from the quarries since we get clients. We employ many workers, and also support other sectors like agriculture through providing market for the produce," Masaba explained during a conversation with Mbarara News.
About 100 metres from Masaba's workplace, Joseph Lokuda owns a butcher. In the evening, he ventures into meat roasting, and his place is well known for roasted goats' meat and offals. He says almost all his customers are people working in the pozzolana quarries. "As long as the mines exist, I get up every day with the hope for better sales," Lokuda says.
The Unhappy Residents
Business may be booming in Chemangala and other towns near pozzolana mining sites in Kapchorwa district, but many residents are unhappy.
Antony Kapkomu sells food items such as rice, posho, beans, as well as household usable items like soap, sugar, tea in his shop. It's located in Chemangala town, less than 2 kilometres from his home. He is one of the many frustrated area residents. "We are blessed with this mineral, but all we see are trucks transporting it to wherever they take it. For us here, we are left with bad and dusty roads, dusty shops, dusty environment and destruction of our properties," Kapkomu elaborates.
He explains that as residents they are tired of bad roads leading to the mining areas that are dusty, but also usually in a poor state, with potholes due to heavy trucks that transport Pozzolana to processing factories that are located hundreds of kilometres from Kapchorwa.
Other residents in areas near the pozzolana mining areas have concerns as well. Apart from the dusty and bad roads, residents argue that pozzolana mining has increased pollution of the environment and water sources, they suffer noise pollution due to vibrations from the heavy machinery used in mining and the destruction of property by flying rocks from the quarries.


Mercy Chebet, a member of the local council committee of Kaboryot village (one of the villages near the pozzolana quarries) says that noise pollution and flying rocks are the most disturbing especially for people within 500 metres radius of the quarry. "People have lost crops and houses due to flying rocks from the quarries. We always live in fear. For the vibrations, we are used to that because it is a common occurrence as well," she narrates, adding that the dust from the quarries pollutes the air, and "our water sources are contaminated with dust as well".
According to Chebet, as residents, they get little from the pozzolana resource in the area. "The actual beneficiaries are the rich people far from here who own the cement industries," she notes.
To Chebet and other Kawowo area residents, if they could get better roads, have many clean water sources like boreholes, be quickly compensated when flying rocks destroy their properties, and have schools and health facilities built with adequate space, and essential items, they would consider their area blessed to have pozzolana.
In Kapchorwa's neighbouring district of Bulambili – the situation in the Pozzolana-rich areas like Buwekanda, Bumasokho, Buwakooli, Bunandutu, Bumwalye all in Nabongo Sub County is not different.
The Cement Industry Boom in Uganda
The cement industry in Uganda is among the fastest-growing sectors today. Initially dominated by two players – Hima and Tororo Cement, this sector as seen an entry of new manufacturers and expansion of the existing ones in the last decade. In 2015, Kampala Cement opened in Uganda with an annual production capacity of 1.2 million metric tonnes, followed by Simba Cement in 2018 with capacity of 1.5 million metric tonnes annually.
Today, cement production in Uganda is estimated at over 6 million metric tonnes annually.
According to Uganda's first Extractives Industry Transparency Initiative (EITI) report, Limestone and Pozzolana (all minerals used to manufacture cement) were the top two minerals in production quantity and value at 889.5 and 1,113.7 metric tonnes respectively in 2019/2020.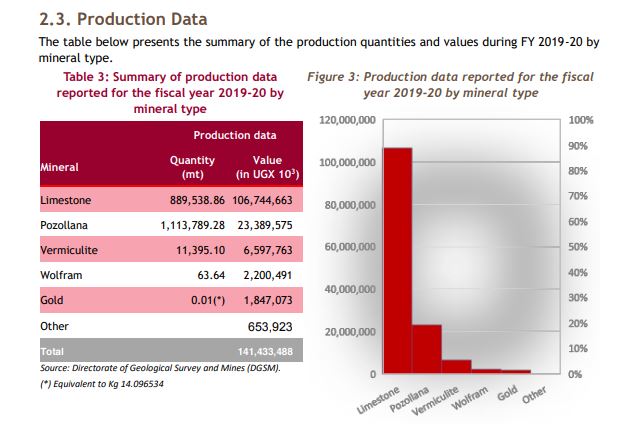 Sector analysts attribute the cement boom to the expansion of the construction industry in the country. "We have seen tremendous growth in the real estate sector and an increase in infrastructure projects like roads and electricity dams over the last ten years or so. This means an increased market for cement and related construction materials. This trend is improving daily and businesses in the cement manufacturing and supply chain will benefit," observes Alvin Muhimbura – a market analyst at Alvin and Partners – a Construction and survey firm in Kampala.
Also, analysts says that the growth of the construction sector in neighbouring countries like South Sudan and the Democratic Republic of Congo is a boost to the cement industry in Uganda.
The February 2022 data from Bank of Uganda indicated that Uganda earned USD 27.6 Million from cement exports to South Sudan in 2020/21 Financial Year.
Uganda's current export promotion strategy – which aims to expand the market and export base for specific products identifies cement among 10 major areas of focus- an initiative that benefits the cement industry.
What Next for Pozzolana Rich Kapchorwa?
"People have lost their plantations, gardens, homes, animals, and worst of all, they have no good roads and access to clean water," says Irene Muloni- former Minister of energy and mineral development, who is the Woman Member of Parliament (MP) for Bulambuli District. This statement from a national-level leader paints the picture in Bulambili and Kapchorwa districts amidst the cement industry boom.
Chemutai Phyllis, the Kapchorwa Woman MP however says not all hope is lost. "It is true the situation is not the best, but as leaders, we continue to engage different stakeholders – including cement companies to see that people benefit from this resource," she notes, adding that as leaders they want to see more people from the mineral-rich areas get employed in the quarries, they want swift compensation for people whose property is destroyed by flying rocks, but also they want more support from cement companies to improve the road network not only in mineral-rich areas, but throughout the district.
Everlyn Kubarika Chebet – the Kapchorwa district Chairperson observes that much as the cement companies have been involved in activities like tree planting, construction of roads connecting to the quarry sites among others, the benefits to local communities remain low. "We want them to do more to support the efforts to make schools and hospitals better since these facilities serve the mining workers and the general community," she emphasizes.
Ohad Kaplan, the operations manager at Chemangala quarry observes that as operators, they are committed to sustainable, environmentally friendly, and seeing the community benefit from mineral exploitation. On the issue of compensation for damaged property specifically, Kaplan says that they have a grievance handling mechanism of registering all complaints from the community, carry out assessment with the help of local leaders before deciding on compensation packages and process.
The pozzolana mining concerns in Kapchorwa and Bulambuli are not different from those in other districts where cement companies are operating. In 2021, residents of the pozzolana-rich Harugongo village in Kabarole district petitioned government seeking the suspension of mining activities in the area due to noise pollution and destruction of property from flying rocks.
By Cliff Abenaitwe
The publication of this story was supported by ACME