Police in Kampala on Tuesday arrested the Development Channel director as he was allegedly trying to flee the country. The suspect, Charles Nyabuikwu Lambert- a British Nigerian aged 44 was allegedly trying to leave Uganda after purportedly conning millions of cash from unsuspecting clients through a fake scheme.
By Press Time on Tuesday evening, he was still detained at Jinja Road Police Station.
This is the second time Nyabuikwu has been arrested in relation to the activities of Development Channel. He was arrested in August this year on almost similar allegations of fleecing money from unsuspecting Ugandans in a grand scam deal.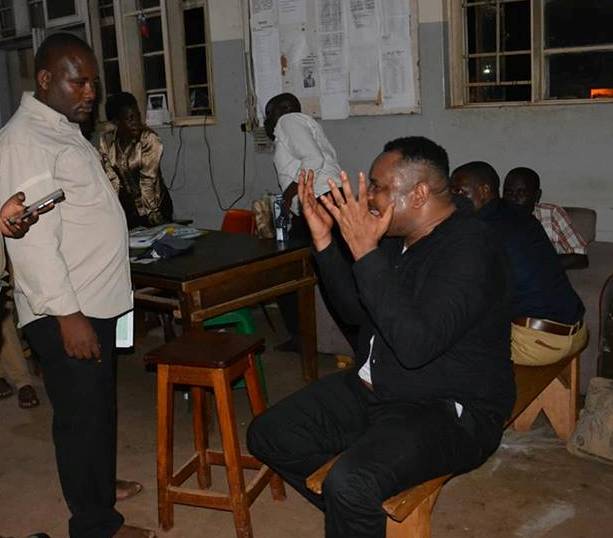 Upon his arrest on August 23, 2018, he was detained at Kira Road Station after angry employees from various transport companies tried to set ablaze one of the premises owned by Development Channel and also trying to lynch him over their unpaid arrears.
Sources in Police have told Mbarara News that upon his first arrest, Nyabuikwu agreed to pay and a re-payment schedule agreed upon but he has now failed to honor it- leading to the latest developments.
This was also confirmed by Kampala Metropolitan Police in a facebook post on Tuesday.
"Upon his first arrest the suspect paid a sum of Shs17 million to these drivers and agreed to pay the balance in a period of two months which he failed to adhere to hence the debt accumulating to Shs213 million shillings as of November 20, 2018," the statement reads in part.
According to Police, Development Channel has been running a complex scheme under the guise of a poverty alleviation company aimed at empowering Africans but this is designed to defraud people.
Yet to be confirmed reports indicate that the company is almost closing and most of its assets have been sold or being sold.
Case file GEF 07/2018 has been opened up at Jinja Road Police Station to investigate the claims by various complainants and the first case vide GEF 30/2018 is still under inquiry at Kira Road Division.
Mbarara News has got several complaints from different people against Development Channel and Police is also investigating other complaints against the same company at different police stations.
According to Police, over 200 complainants on Tuesday flocked different police stations like Jinja Road Police, Kira Road Police, Katwe Police Station and CPS Kampala requesting for police intervention in the process of recovering their lost monies and proper justice against the people that take advantage of the poverty stricken citizens.
The Kampala Metropolitan Police Spokesperson Luke Owoyesigyire recently warned the public against scamming companies.