If you have ever doubted the role of art and talent in the transformation of people's lives then you have not met or read Gilbert Okot also known by his stage name 'Beat Box's story whose life dramatically changed for better after winning the Artizen competitions in 2019.
Beatbox Scooter was the winner of the 1st Art Tank Competition in November 2019,he beat five other artists in a fierce battle which took place at the International Conference on Art for Social Transformation ARTIZEN 2019, at National theater in Uganda's capital Kampala.
"I am a Beatboxing art Music Teacher and Artist. I use human beatbox art for positive change in schools and slum areas for children and youths." Mr Gilbert Okot told this website in an exclusive interview.
According to Beatbox,all the five international judges including Dr. Marceline Dabo from France, Ms. Hilda Twongyeirwe from Uganda, Elder Ssalongo Chief from the Buganda Kingdom and the ARTIZEN visionary Ms. Kim Poole from United States of America all fell in love with his talent on stage.
"The photos and videos displaying the kids in the classrooms practicing what I teach them, beatboxer students who joined me on stage as we showcased live human beatboxing music for the Judges as the audience cheered was the turning point in my life and that is what made me win" The humble superstar added.
Life changing Experience

"Since winning the competition, I began receiving 375,000 UGX an equivalent of $100 per month from the Art Tank Bank and consultation from the Teaching Artist Institute about how to make my project grow"Beatbox told this website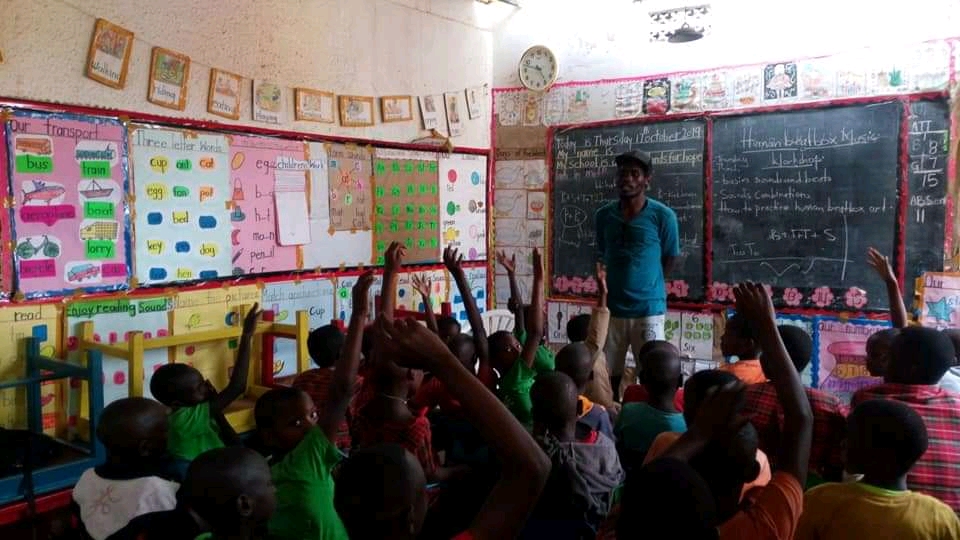 With the money won, each month Mr Okot has managed to build a double room house in Kampala city on the land that his Father gave him which he was contemplating to sell before he got a chance to win the ARTIZEN competitions.
Mr Okot has a dream of putting up many buildings on this land in case he gets more partners and investors to help him achieve his dream.
"If I can get another chance or a partner to invest in this project,I can always use it to host our beatboxers and visitors on my land instead of them spending money in lodges and hotels. Even COVID19 will not stop me,I will sacrifice all what I have to make my dream a reality" Okot said.
Mr Gilbert Okot's story is surely an inspirational one,the Art Tank Judges believed in him and since then, he has never disappointed them,he picked himself up and he is living his dream,we pray that he gets good Samaritans and other investors to further his Music and art aspirations.