By Aritha Aruho
Over 100 people have been shortlisted in different categories for the annual Mbarara Entertainment Awards.
The awards seek to appreciate the great work of different individuals in the Entertainment industry in the Land of Milk and Honey.
The awards are being organized by Asante Media– the mother company of Mbarara News and the awarding ceremony will take place on November 23, 2018 at Adit Mall Mbarara.
To vote for your favorite act;
1. Go to Mbarara News Facebook page scroll down and look for the category of your favorite act, comment the name of the act. Only one vote per individual counts per day. You can also send a message to Mbarara News on Facebook and your vote will be counted.
2. Go to www.mbararanews.co.ug, check in Mbarara Awards category look for an article- How to vote for your favorite act scroll down at the end of the article and comment the name of your favorite act and the category.
3. Go to Mbarara News twitter handle @MbararaNews DM or tweet your favorite act and the category, only one vote per person per day counts. Voting will stop on 22nd November at Midnight.
Winners will be determined by 70% popular vote (people's choice) and 30% by a panel of 4 judges and will be announced at the awards gala on Friday 23rd November 2018 at a red carpet black and gold event at Adit Mall in Mbarara City.
There will be lots of performances from different nominees of the night, popular Mbarara artists and surprise acts from Kampala.
All the nominees will be entering for free and other dignitaries will be formally invited for the biggest entertainment event on Mbarara City calendar.
If you want to perform at the gala, please get in touch with the organizers on mbararanews@gmail.com or send a message to all Mbarara News online platforms
Here are the Nominees
Best Radio Station
Crooze Radio
Radio West
Vision Radio
Endigyito Radio
Link FM
Glory FM
Greater African radio
Grace Radio
Radio Maria
Mercy FM
Revival Radio
Easy Man Adams
Mat Henry
RayG
Dr. Shaay
Gen. Geon
Van Allan
Bless Nat
Selector Medotex
Shanita
Shine Omukiga
Jackie Kazaire
Penny Patra
Doris Mutahunga
Emily Kikazi
Raysh Chion
Bless Nat
CJ Champion
Jose Jose
Easy Man
Mat Henry
RayG
Penny Patra
Gen Geon
Shine Omukiga
Van Allan
Dr. Shaay
Jackie Kazire
Rutaaba Cultural troupe
Igongo Cultural troupe
Rwankunyonyo Cultural troupe
Nyonyozi cultural troupe
kaaro Karungi Troupe
Ankole Cultural Performers
Bisinsiino Troupe
Entoore Cultural Group
Let me Go – Easy Man
Nkaronda- RayG
Tibyemizano- Mat Henry
Mucurezi- Jose Jose
Hit- Van Allan
Butabika- T. Paul
No one- Emily Kikazi
On my way- Penny Patra
Bayorooba-Selector Medotex
Muharawa Bishop- CJ Champion and Mat Henry
Omudarasini – CJ Champion and Shine Omukiga
Omukidongo – Jackie Kazire and Shanita
Nyowe Niwe (Tip Toe) Raysh Chion and Megatone
Tikikushemerire – Gen. Geon and Dr. Jose Chameleon
Nkurage Omukwano – Bless Nat and Hoover
Kasirivu- Endigyito
Kabagambe- Radio West
Taban
Mathias- Glory
Patrick Kabatereine- Radio West
Ivan Murungi- Radio West
Patrick Ntare
Selector banes- Greater African radio
Eddy Taremwa- Link FM
Enya- Crooze
Hazel Karisa- Radio West
Shine Omukiga- Vision Radio
Charity Mbabazi- Radio West
Diane- Vision Radio
Triphin- Endigito
Gloria Nuwagaba- Radio West
Principal Edmond farmer
Sister Charity
Annabel
Arinda Jackie
Brother Kenneth
Mukwikwi
Kachaina
YedidaNyakahangura
Mark Intogor
Ice Lounge
Vision Empire (Majestic)
Club Vegas
Desert
Nicoz Lounge
Jacks Café and Lounge
Cave
Rhino tavern
Havana Cafe
Coffee Bar
Mbarara Country Cinema
Spachies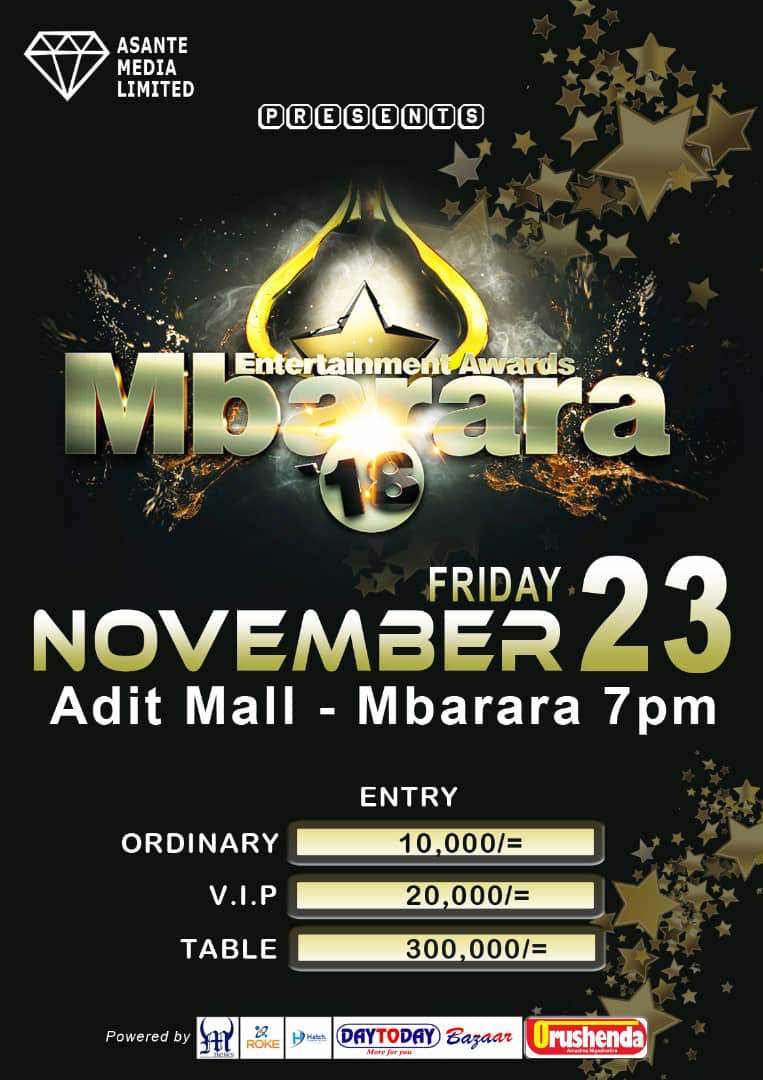 Kosia
Igongo Cultural Centre and Country Hotel
Oxford hotel
Hotel Triangle
Asamar
Generation Suites
Hotel Kash
Serene Hotel
Lake View Resort Hotel
Gospel Artist Of the Year
Best Emily
Kiwalagye Wilber
Baingana Geofrey
Mary Asiimwe
Peace Kyamukongwire
Norah Nankunda
Kategaya Joseline
Kachaina
Mutembandegye
Patrick Mulwade
Mukwikwi
Oxygen
Nitrogen
MzeeBisinsino
Jackie Kazire
DJ. Frayo
Dj. Alberto
Dj. Alex
Dj. Virus
Jeff DJ
Dj. Giftology
Dj. Sky
Mats Dj,
Mbarara Personality of the Year
Winne Byanyima
Robert Mugabe Kakyebezi
Maria Matembe
Judge Kenneth Kakuru
Richard Byarugaba
Aggrey Twijukye
Leo Beyagira
Edward Kazire
Tumusiime James
Mwesigye Fene
Mugumya Moses
Ndyabigwamu George Umoja
Mc Kacheche
Easy Man Adams
MC Shukrah
MC Patrick Tumwesigye
Kabagambe Master teacher
MC Yanke
Mc Patrick Ntare (mulwade)
Speed
Ivan Murungi
Let Me Go-Easy Man Adams
Muharawa Bishop- CJ Champion and Mat Henry
Hit- Van Allan
Nkaronda- RayG
Okidongo- Jackie Kazire and Shanita
Under your love- DR Shaay
On my way- Penny Patra
Omudarasini – CJ Champion and Shine Omukiga
Iwe – Shine Omukiiga
Bruno- Alpha Music
Elgon Studios
TON
Nyangi
Eric Pan
Rasta Chaz
Alex
Deus
12 Keys
Quest
Pearl
Skymob Dance Crew
Sipkles
Ninjas
247 Crew
TRC
YTC
Destar Teenz
TYG