One of the upcoming artists on the Ugandan Celebrity Chat and also Runyankore RnB singer Armstrong Atwine alias Virus Killa talked to Mbarara News' Innocent Arinaitwe on a one on one interview and here is what the new kid had to say;
Mbarara News: What are your full names?
Virus Killa: Am Atwine Armstrong
Mbarara News: How old are you? And where do you work? Where do you come from?
Virus Killa: Am 22, was born on 10th April 1997 at Mbarara Police Barracks and still a student and I come from Kitagata Sheema district
Mbarara News: Where did you start your Music from?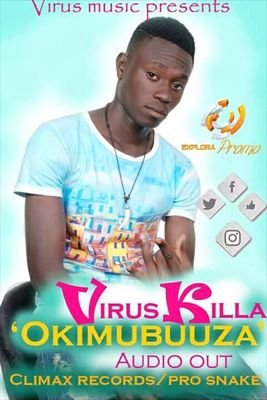 Virus Killa: My passion for music started way back in 2010 when I was still in High School. I was in a School Choir as a Choir Leader.
Mbarara News: How many songs do you have?
Virus Killa: Have released quite a number of songs and others are still in the studio and among which I have Munyazi produced by Mad Fire, NeXT was a love song called Mpeeka and then Okimubuza done by Snake pro and now have Njumbura producer by Producer Jonah of Real Audio.
Mbarara News: You have talked of collabos with Musicians, How many do you have so far?
Virus Killa: I have an international collabo with a Nigerian and Jamaican stars which am yet to release very soon.
Mbarara News: So what have you gained from music so far?
Virus Killa: As an upcoming artist am facing a lot of Challenges because we dont have money that is enough,sometimes you go on stage and fans slow you bottles but we keep the hustle till ends meet
Mbarara News: So where do you see yourself in the next 3 years?
Virus Killa: I see myself becoming a super star because the music I play is not for everyone, I first research about what am going to sing about and always give out the best of me.
Mbarara News: What advice do you give other Artists?
Virus Killa: All I can say is they should try hard and make sure that the music thay are going to release be of great importance to the public because we dont sing for ourselves but we sing for people.