By Our Reporter
ONC Cordinators Greater Mbarara led by Mr. Zephline Muhangi in company of Mr. Ezra Mugume and Mrs. Sharon Nsimenta under the stewardship of SPA Hajjati Namyalo Hadijah Uzeiye visited the Office of Mbarara City Lord Mayor Robert Kacebezi, City Town Clerk Mr. Abirebe Assy Tumwesigire and the newly appointed City South Division Town Clerk Mr Didas Muhanguzi during their monitoring / stakeholder engagement visits with in the region.
They stressed on key various issues happening with in the City but most importantly Lord Mayor Kacebezi appreciated the support they have received from the President/Government inform of services like good Roads, New Central Market, stable electricity and water supply among others.
Though requested for upgrading of their Nyakisharara Airfield for usage to enable business people timely travel to Kampala, Kenya, Rwanda and other far areas and come back to their businesses, plus more input in Cottage Industry investments.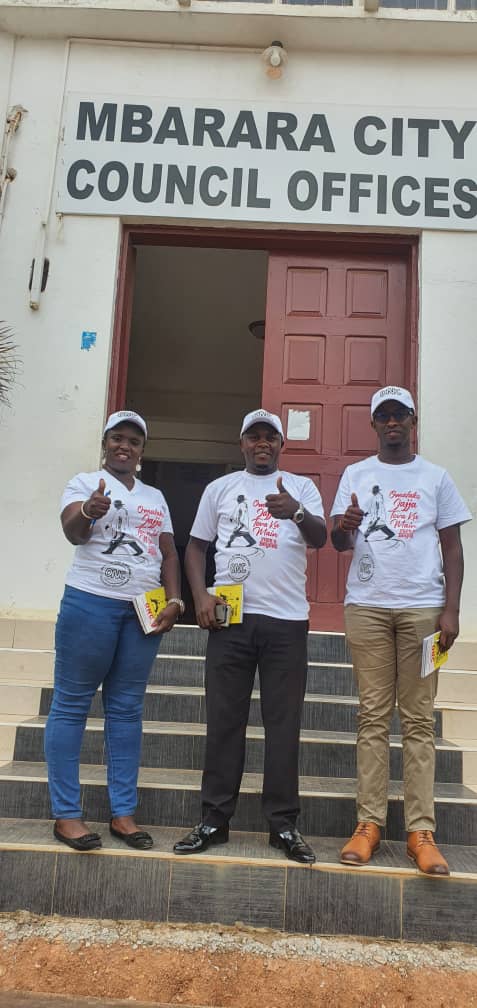 They further assured that the disagreements that had emanated between MK Movement Vs Museveni supporters have so far stopped since the coming up of "Tova ku main" brand promoters by "the Bazukulu camp".
"Mzee is still strong, energetic and loved by Ugandans, we will still support him whatsoever" Mayor Kacebezi further narrated.
Further invited the newly ONC team to come and witness the official launch of PDM soon.
"President is good and wise to appoint Youths to aide in overseeing and monitoring of government programs" City Clerk Abirebe appreciated.
10236 views