Number Plate Thieves Arrested In Mbarara
Police in Mbarara is holding five men suspected to be part of the criminal racket that has been plucking number plates from vehicles in the Land of Milk and Honey.
The arrested- all in the youth age bracket are currently 'feeling the coolers' at Mbarara central Police Station as investigations continue.
The Rwizi region Police Publicist Samson Kasasira identifies the suspects as Yusuf Nuwagaba, Ronald Lubega, Evans Muhimbise, Benson Turyahabwe and Henry Ninsiima.
Speaking to Mbarara News, Kasasira noted that these suspects were arrested from the areas of Kakoba and Kamukuzi divisions in Mbarara Municipality following a public outcry.
He explained that in the last three months, over 30 cases of intentionally taken number plates have reported and as a result of intensified police operations, 20 have so far been recovered.
Upon plucking the member plate from the vehicle, the suspected thieves have been getting money from the owners at a fee usually ranging between 50,0000 and 300,000 but Kasasira now wants victims to always report to police.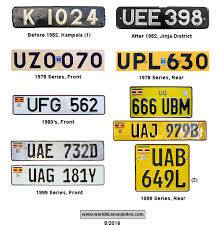 Kasasira notes that the five suspects will be charged with different accounts including theft in courts of law once investigations are complete.