Kampala
Uganda Police has arrested a city pastor in one of the crack downs on the defiance campaigns of the forum for democratic change(FDC) party.
Pastor Happy Ngabo was arrested this morning while on his way to the FDC headquarters in Najjanankumbi where he was going to lead the 'free my vote campaign' prayers.
The campaign which was started by the party to show their dissatisfaction of the February general elections which the party claims won but instead the EC declared NRM something FDC officials are disputing in the strongest terms possible.
Police was following the orders of the supreme court which banned the defiance campaign last week.Meanwhile police has camped at Najjanankumbi and it is not allowing any one to enter the FDC party premises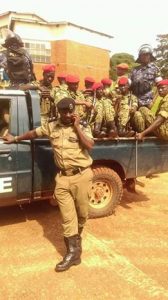 Related articles