By Aritha Ariho
If you are thinking of pursuing high education, then you definitely have the desire to study in a top-grade university.
But have you ever thought what a top-grade institute is all about? Probably you haven't figure out but this website is here to guide you on your best academic destination.
If you are 'top-grade' student then you must choose a top grade University which is Victoria University Kampala.
Firstly,the University is located at the heart of the magnificent Kampala City,which makes it easily accessible.
Victoria University has concentration of talented faculty members, researchers and students which is considered to be the backbone.
This is taken to be the supervision system for you, as the teachers, scholars and the senior students will offer proper guidance in the program of study or research.
Such supervision will help you understand the concepts and also complete the research works. They will guide to the direction of information and resources that will enable you to acquire right concepts and knowledge.
Victoria University has a combination of freedom and leadership which is very necessary.
Like any other good quality institute,it blooms in an environment that fosters competitiveness, creative thinking, innovation and so forth.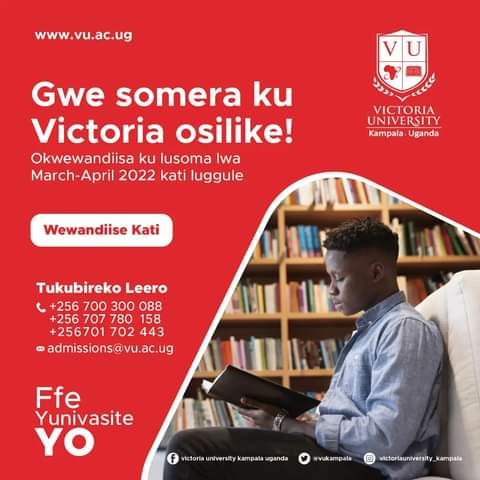 This great University provides a learning environment that encourages working on innovative projects in order to promote holistic personality development for nurturing future leaders.
Victoria University has sizeable budgets that help to offer scholarships to the students. Apart from that, it has many sources of funding for organizing workshops, seminars and various other programs, which will turn out to be beneficial for students.
The university also offers mentoring-based education system using the Ruparelia group. The institution provides learning through knowledge enhancement, skill development along with positive attitude formation.
Aspiring candidates seeking admission into Victoria university,the March-April intake is open,please complete your application by visiting admissions.vu.ac.ug.
7142 views