It was in 2019 that Jarc Tusiime first went viral among his close comrades, electorate and social media highlighting his mojo and effervescent personality that would bring the much needed and anticipated development in the constituency.
The soft spoken 34 year old may not be be a high-profile political maniac now, but it is only his generosity and quest for success in local communities over the years as envisaged by his communal work that he was indulged in during his school days and his hospitable activities that saw him traverse local communities encouraging them to fight poverty through income generating programmes.
When the latter announced his ambitions and intentions of vying for the seat, it was a no brainer for many who fully endorsed his candidature.
Makanika immediately knew what that would mean, While most people wondered why and how he would manage,
"The youth, across Mbarara have embarked on a massive campaign on social media to garner support for the Itaaba born native with scores of youth championing the motive. A rather simpler message- Economic Liberation For All.
Makanika as many call him because of his Engineering background and his strategic way of thinking, has helped several youth locally,nationally and at African Union level through networks that have spearheaded and harnessed their future through poverty eradication programs.
He has highlighted the need to have more youth in parliament in a quest to spearhead development, fight the unemployment prevalence,reduce the income gap between the rich and the poor and set youth friendly policies for a sustainable Uganda.
The 'Makanika Campaign' has so far received messages of support from both down in the villages and surprisingly in the different Cities in Africa which is slowly tilting the balance in his favour .
As 'Makanika' plots to steer his way to parliament it is worth understanding why, at the age of 34, he has been so willing to step out of his comfort zone.
Also it is no brainier why Jarc Tusiime is revered and admired for his work away from the youth network groups, he comes from a humble background,he is known among his Nyakayojo colleagues as a boy who sold matooke and Tonto when he was at St Peter's SS Katukuru and Mbarara High School to raise his school fees.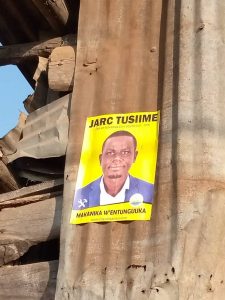 This shows how determined and focussed he is whilst as envisaged at the East African Community Secretariat where he works as a youth coordinator, something that inspires his peers.
Tusiime aka Makanika articulated his back story in the emotive letter he sent to several media outlets;
"As Youth, we rely on the old guard and the rich political elites for, free meals, and bread but this kind of actions must stop, we the youth must re-invent ourselves and offer ourselves for this country if we want to develope our City,"he wrote. "
Nothing but determination can only define the charisma and the zeal he has , he believes that one day,the economic injustices in the world will end .